If you want to know the latest major e-commerce news, you're in the right place. Because in this article, we've summed up all the most eye-catching news in the sphere of e-commerce that is worth sharing with the world. Without further ado, let's roll!
Java 19 Release
Java 19 is expected to be released this September. Among the new features, there are structured concurrency, record patterns, a preview of a foreign function and memory API, and support for the open-source Linux/RISC-V instruction set architecture (ISA).
CVS Health Virtual Primary Care
CVS Health Corporation has set up the CVS Health Virtual Primary Care. How does it work? People can receive care anywhere and anytime (primary care, on-demand care, chronic condition management, mental health services).
This virtual care solution combines clinical expertise, CVS Health's services, and data for a more efficient health care experience. What's more, it helps to choose relevant specialists and schedule virtual appointments. Also, you can have an alternative of being seen in person at an in-network provider.
Drone Delivery by Walmart Inc. and Partner DroneUp LLC
Walmart Inc. and partner DroneUp LLC are going to cover six states with drone delivery by the end of the year. The price of such delivery is $3.99 and orders can weigh up to 10 pounds. Drones will reach 4 million U.S. households and deliver 1 million packages in a year.
Amazon Robots: the Proteus, the Cardinal
Amazon recently showed a few robots it's been working on and investing in. The latest robotics is the Proteus and the Cardinal.
The Proteus can move automatically through Amazon facilities. It operates safely along with employees and moves around the GoCarts. They move packages through the facility. There will be no need for people to raise or move heavy objects. Instead, they can focus on more rewarding work.
The Cardinal robot can select a particular package, lift it and read the label, before precisely placing it on a GoCart to send the package on the following step of its journey. All this is because it uses advanced AI.
The major advantage of this technology is that the risk of employees injuring themselves is much lower now. They don't have to lift and turn heavy packages in an enclosed space. The Cardinal also sorts packages faster, contributing to a faster package processing time.
Virtual Primary Care Service
Empire BlueCross and Empire BlueCross BlueShield (Empire) in New York revealed the availability of their virtual primary care service to eligible members. People will have access to a virtual care team that conducts an initial health check-in, creates a personalized care plan, and provides care services to help members improve their health and wellbeing – all at no or low cost.
Empire's virtual primary care service is personalized to the member's unique care needs through AI-driven modelling and analytics, improving the healthcare experience. Data and insights from the initial symptom assessment, which is informed by millions of care interactions, are also shared with the virtual primary care doctor to better inform the care visit.
Johnson & Johnson MedTech
Johnson&Johnson MedTech is one of Fast Company's Most Innovative Companies for 2022. It's acknowledged for its groundbreaking approach to tackling some of healthcare's most pressing needs.
For instance, the MedTech team is using (AI) in the operating room to provide real-time insights and improve results through its AI-powered C-SATS platform. Surgeons can connect any operating room to the cloud and access surgical videos, connect with their peers and get mentoring from other surgeons.
With the Monarch® platform, physicians can access and visualize hard-to-reach nodules in the lungs, allowing biopsy for early diagnosis and treatment of lung disease.
Nike Is the First Omniversal Brand
Nike has been called the first omniversal brand. Here's why. Nike navigates traditional retail, DTC, and metaverse seamlessly through its physical and digital presences. It promotes commerce and relationship development in an integrated manner, elevating the brand in each format. To achieve this, it had to accomplish the following objectives: impact cultural moments, fortify its DTC channels, defend its intellectual property through resale, and establish its IP rights through metaverse-adjacent projects.
IKEA Kreativ
IKEA is showcasing a new AI-driven interactive design experience called IKEA Kreativ. Now it's easy to create and visualize your own accommodation with digitalized furniture on your smartphones instead of going to a brick-and-mortar store where you can be easily distracted from your main goal. The company is taking new steps toward digital transformation and bridging the gap between e-commerce and in-store customer journeys.
Amazon Shopping Tool
Amazon launched a new augmented reality shopping tool. With the help of it, people can try on shoes which makes online shopping experience easier and more interactive. Shoppers won't be able to know how the shoes fit. But they will get a sense of what they look like. Amazon isn't the only company integrating augmented reality in online shopping. Ikea, Nike, L'Oreal and Zara have all set up similar features.
Apple Pay Later
Apple has launched a new feature called Apple Pay Later. Now customers can divide a purchase into four equal payments over six weeks. What's more, they have no interest or fees to pay. Apple Pay Later is available for purchases in apps and online when customers check out with Apple Pay. And it's incorporated into the Wallet so customers can easily check how much and when they need to pay.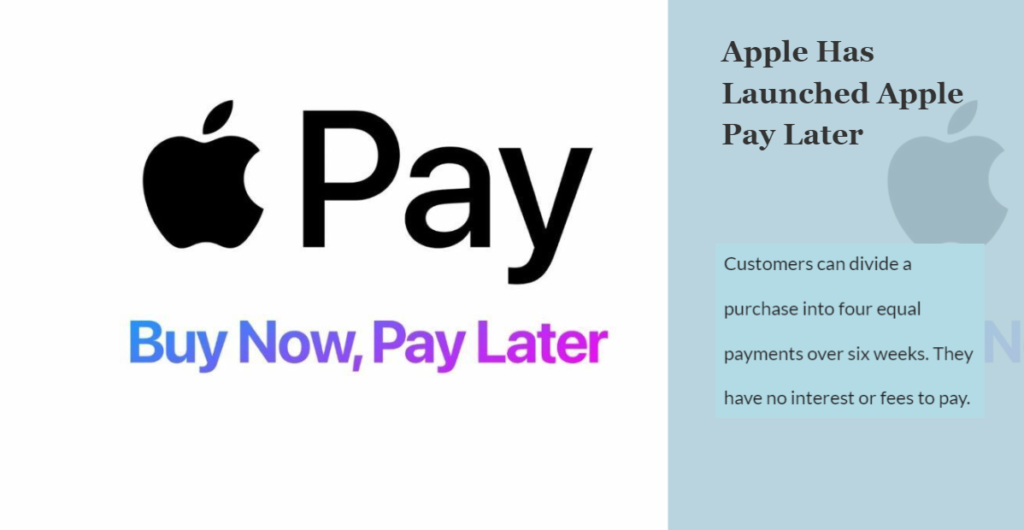 Simon Property Group Platform
Simon Property Group is trying a platform that lets shoppers search for in-stock items at the stores within the mall. The main advantage is that this platform can draw more people to the stores, as store traffic has been declining for years and has to recover from the pandemic.
That's it for today. If you've enjoyed this e-commerce news, leave a comment down below or share this news digest with the others. Have we missed anything? 🙂